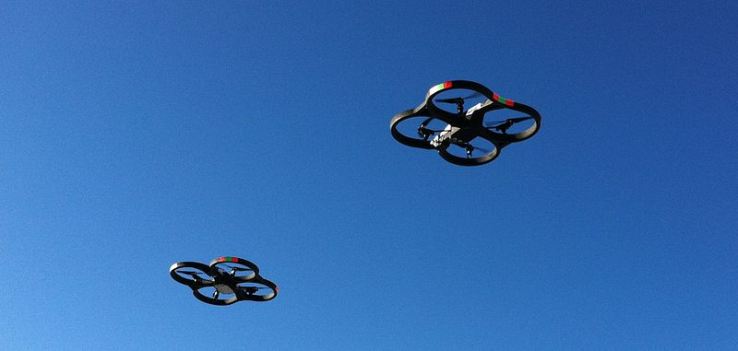 With e-commerce booming and the holidays rapidly approaching, retail and tech giants alike are asking Santa for new ways to delight customers and increase sales. In the U.S., nearly half of all holiday shopping will be done online, according to the National Retail Federation.
With this rising demand, consumers want fast, affordable and easy deliveries. That's why key players in e-commerce and retail are putting in every effort to revolutionize the shipping industry.
In the shipping spotlight are major brands like Walmart and Google (under its parent company Alphabet), testing aircraft drone delivery, and players like Amazon and Uber offering crowdsourced local delivery.
Determining The Fate Of Drones
Amazon, Google and Walmart are just a few large brands testing drone delivery. These companies certainly have an audience in the U.S. — 66 percent of consumers think they'll receive their first drone-delivered package within the next five years. And it might even be sooner, as Google's David Vos recently shared his goal to make drone delivery a reality by 2017.
Despite mounting anticipation, 2016 will be a defining year for the future of drone delivery. The Federal Aviation Administration (FAA) appointed a task force to decide registration requirements for all commercial and personal drones by the end of 2015. The FAA expects to finalize the comprehensive rules for drone use by June 2016.
If the final FAA regulations allow for commercial drones, will they become a widespread delivery option? To an extent, I agree with the naysayers — couriers are going to have a hard time adopting drone use during stormy weather and in congested urban areas.
However, there are certain situations where drones could be a great addition to a company's delivery arsenal. For example, I live in a reasonably rural suburb of San Francisco where the long, winding residential streets can make for a time-consuming delivery process.
Despite the evolving delivery game, there are certain aspects of shipping that won't be changing any time soon.
It's in locations like these where carriers could implement a hybrid delivery system. Companies may be deploying large trucks with an on-board drone fleet, enabling packages to be delivered to a few homes at once. The truck would park in one area and the drones would be sent out to deliver packages around that location. Then, they would return to the truck and nestle into charging bays.
The truck would drive to the next location, which would be optimized based on the addresses for each set of deliveries. That way, the truck is responsible for the longer haul, while the drones can more easily access the hard-to-reach mailboxes, making for an efficient package-delivery process.
The Next Delivery Battlefield: Your Doorstep
Startups and tech giants are getting their feet wet in the delivery industry by focusing on the local market. Specifically, once one of the major carriers delivers the package to a local warehouse or retailer, these regional delivery companies take over and drop off the product on the consumer's terms, typically same-day or next-day.
One popular business model for local delivery is crowdsourcing. Amazon Flex and UberRUSH have made big strides in this arena, hiring everyday folks to drive their own cars, pick up a package and drop it off with the recipient.
While it may seem like local delivery is here to stay, it might take some time before we see widespread adoption. My company Endicia surveyed 1,000 consumers and discovered that 61 percent of respondents have never used a shipping startup. But if same-day delivery is able to make its way to more cities, there's hope for shipping startups to take off — 67 percent of respondents said they would use new crowdsourced services like Amazon Flex or UberRUSH to receive a package.
With a strong groundwork laid in 2015, and new options available from startups, retailers, tech companies and established shipping players like USPS Metro Post, local delivery will be a trend to watch in the new year.
Continued Reliance On The Major Carriers
Let's get one thing clear: Despite the evolving delivery game, there are certain aspects of shipping that won't be changing any time soon. While shipping startups continue to make a dent in the industry, there will always be a reliance on the main carriers: FedEx, UPS and the U.S. Postal Service.
We're seeing many new players test the shipping waters with local delivery, but there's still a need to transport goods longer distances, say from San Francisco to New York, which will be harder to achieve without the network and infrastructure of one of the major carriers.
In the future, all of these new technologies fit cohesively into a package-delivery puzzle, each option working in unison to meet customer needs. Crowdsourced delivery will likely find its footing in urban areas, and drone delivery can be a useful tool in rural locations.
End: WordPress Article Content
Source: The Next Delivery Battlefield